Thinking about working in Residential Child Care in Scotland but unsure what's involved or where to start?
Join us for an informal, yet informative, online discussion of what to expect in this sector and current opportunities to join a highly rewarding working environment.
This session is perfect for those who would like to get information on the work involved before deciding to apply for any roles. Lots of chances to ask questions, join the conversation and hear from people who work to empower and inspire our young people here in Scotland.
Wed, 15th November 2023, 19:00  - 20:00


Organised by Care Visions...
Care Visions has a fantastic community of support made up of compassionate and committed practitioners and managers who support one another, growing and developing together to provide the best possible experiences of care for our young people.
Working for Care Visions would also provide you with comprehensive training, including a fully funded professionally recognised qualification (for those not already qualified). We can also provide information on sessional work as a lower-risk way to enter the field.

Register at: https://www.eventbrite.co.uk/e/750765950167?aff=oddtdtcreator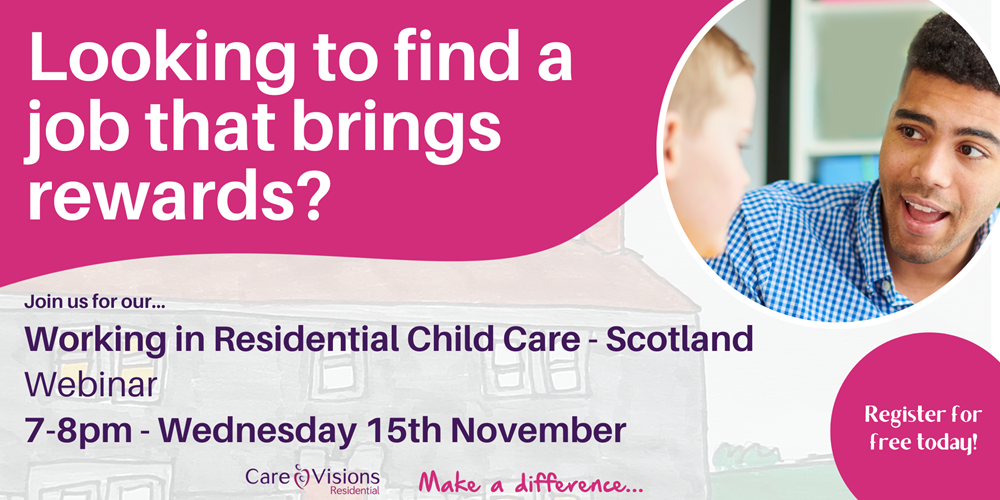 Info on current opportunities with Care Visions Residential is available via: Carevisions Residential - Join Us