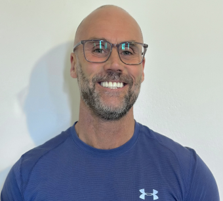 From Fergus Faulds, RCCW at Waterstone Farm
Like many of us, I started my journey without any real experience of working within residential child care, although in a previous role I had worked with a group of young people who were in residential care. If I'm honest, I have to say that after my first shift, I did question whether or not I had made the right decision, however only a couple of months down the line and already I can say that it has definitely been one of the best decisions I've made.
At the time of looking, there was quite a few care providers advertising for staff, but there was just something about Care Visions that stood out. The values that Care Visions hold definitely matched my own, and of course the emphasis on making staff feel valued also played a big part in my decision to apply.
On joining my service, it soon became apparent that I had joined at a pretty challenging time for everyone, but being someone who thrives on a challenge, I feel without a shadow of doubt that this has helped me grow quickly into my role.  Being a challenging time, I also discovered the strength and togetherness of my new team, which was very reassuring.
I really should mention at this point how welcomed and incredibly supported I've been from the very start. From my first contact with HR, training, and my team that I work with everyday, I honestly couldn't ask for anymore and because of this I personally feel like I have settled into the role really well. I already feel part of the Care Visions family. 
I am almost scared to say that I am loving my job in case I jinx it but there you go, I said it, I'm loving it! I seem to have built great relationships with the young people in our house already and of course the other members of the team too. I love engaging and having fun with the young people in our house, perhaps it's only now that I truly realise the importance of this is and the huge responsibility that it comes with.
Although this is just the start of my Care Vision's journey and I still have so much to learn, I am already excited for what the future holds.